General Race Sled Information and Options
All sleds include bar brake, drag mat brake, snow hook holder and bridle at the listed sled prices. Snow hook not included. Gatt Snow Hooks are available for $165 each.
All race sleds except the Tail Dragger are available with the popular Gatt Pull Down Seat as an option for an additional $295.
Tail Dragger
Price : $4280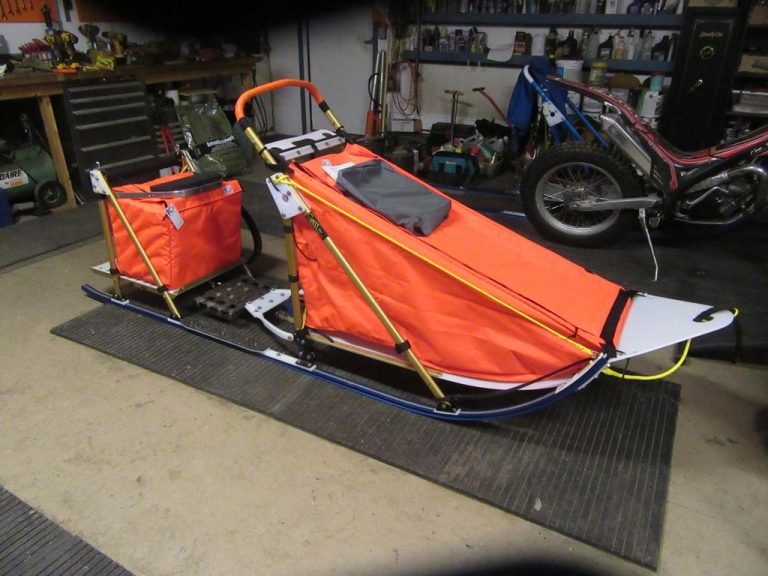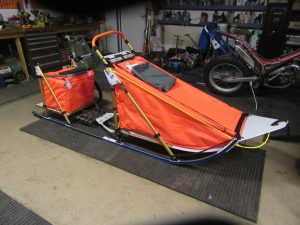 Short front, lightweight, big enough to run the Iditarod or Yukon Quest. You can remove the assembly easily for a finishing sled in the Quest or Iditarod. Because of the short basket length, it steers extremely well. The driver's weight is in the middle of the runners which helps it turn very easily. The rear assembly can be bought separately to be put on a Mid Distance or LD Pro. You gain weight and lose some ease of steering, but the extra room in the bag is sometimes necessary. (See Mid Distance Sled)
Winning sled in the Kobuk 440 and CB 300 in 2019.
Basket length 47: / 120 cm
Sled bag front and rear (2 bags) total $720
Prices is Canadian $, plus add 5% GST for sales inside Canada (no GST added to sales to be exported outside Canada)
Distance Pro
Price : $3940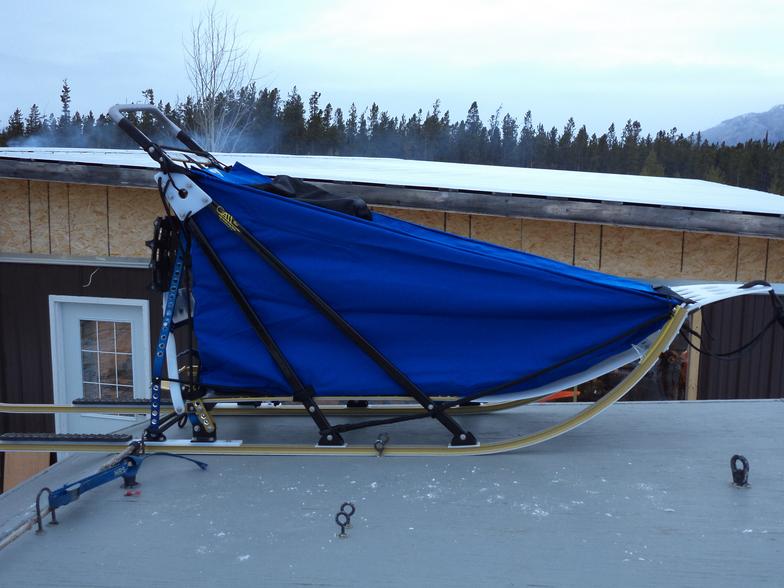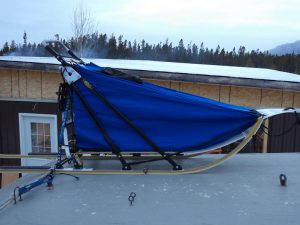 A great sled to run any race. I ran this sled first in the 2010 Yukon Quest. For people who don't want to run a tail dragger but still want room to carry whatever you need for a long distance race, this is the right sled. It is available with a pull down seat. You don't have to worry about the seat behind you, you can jump off and run any time you want. This sled was made for professional level racers who didn't need quite as much room in their bag but has completely replaced the Regular Long Distance Sled because people stopped ordering the Regular LD after this became available.
Basket length 60″ / 152 cm
Sled bag $500
Add removeable rear assembly to make an LD Pro Tail Dragger: $850 with bag, $700 without bag. This was the combination used in the winning sled in the 2019 Iditarod.
Price is in Canadian $, plus add 5% GST for sales inside Canada (no GST for sleds exported outside Canada)
Mid Distance
Price : $3790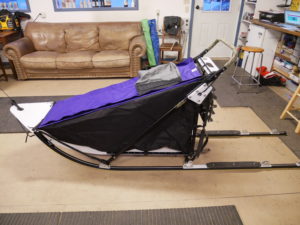 Lighter weight and a bit easier to maneuver than the LD Pro, but there's less room in the bag. I ran this sled in the 2019 Yukon Quest with a tail dragger on it. I changed the stanchion configuration for that race, making the front of the sled more like the original Tail Dragger, and have adopted the new design for 2020. This is the most popular model for the Tail Dragger right now because of the extra room for gear, though it does not handle and turn quite as easily as the original Tail Dragger with the shorter front bed.
Basket length 52″ / 132 cm
Sled bag $500
Add removeable rear assembly: $850 with bag, $700 without bag
Price is in Canadian $, plus add 5% GST for sales inside Canada (no GST for sleds exported outside Canada)
Deposit
A minimum deposit of $1000 is required to secure a sled order, with the balance due before shipping. Gattsled accepts cash, cheques, wire transfers, and E transfers. We are not set up for credit cards.

Prices are in Canadian dollars, sales inside Canada subject to 5% GST.

Sleds, parts and accessories destined for export to the United States or overseas are not subject to 5% GST.

Gattsled accepts payment in US dollars at current exchange rate plus 2% which our bank charges for conversion.
Delivery Time
Each sled is custom built, there are no new Gattsleds in stock. Sleds are ready for delivery typically within 4 days to 8 weeks of ordering depending on existing orders and material inventory. Call for details on current timelines.
Shipping
Shipping is the responsibility of the purchaser, but we are familiar with some of the best ways to ship your sled and we do what we can at our end to help make sure that your sled gets to you as safely, quickly and economically as possible.

Within Canada: Throughout Canada, as far east as Montreal, we reccommend shipping by Greyhound Bus. Greyhound normally takes 3 to 8 days for delivery within Canada.  They are reliable and inexpensive.

To USA: We can ship via Greyhound to the US border if you are able to pick your sled up in a Canadian border town. For shipments beyond the border, Manitoulin Transport can arrange shipping from Whitehorse. Sleds going to Alaska are by personal arrangement with Hans as no shipping company goes from the Yukon to Alaska. Contact us for details.

Europe, Scandinavia or beyond: Gattsled has some information on shipping to other parts of the world. Prices vary according to destination. Contact us for details.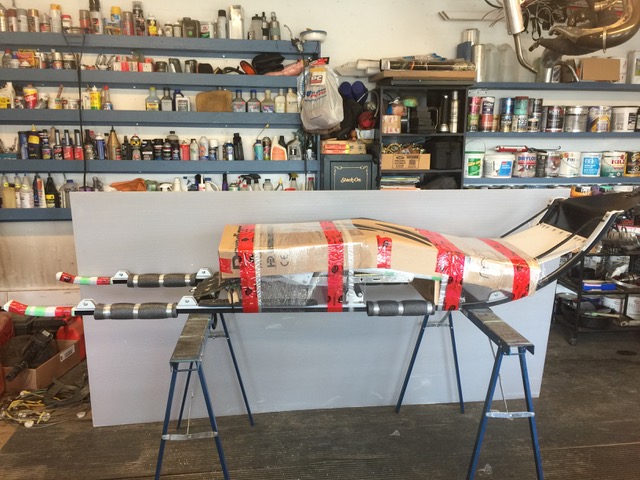 CONTACT US
Feel free to contact us if you have any questions:

gattsled@hotmail.com
(867) 668-2703
9 am to 9 pm Pacific Time Zone (Yukon, BC, California)

Magic Trails Dog Sledding Tours
Gentian LN BOX 11016
Whitehorse, YT Y1A 6L6
Yukon Canada