Home Made Sleds
Below are two examples of Gatt Custom Sleds. Hans will work with you to build the sled you have in mind. Price is determined by the time required to design and build
TW Sit Down
This sled has many modifications to make it highly stable while maintaining ease of steering. Built for people who cannot use their legs while dog sledding. It has specialty foot boards, a hand operated brake and other unique features.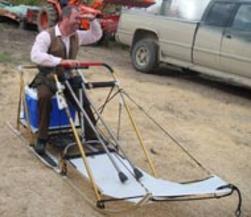 KOMATIK
Built with wood and rope as per materials used in traditional Arctic Komatiks. Authentic design and construction techniques give this Gatt Komatik good steering and the flexibility needed for traveling on ice. The sled pictured was custom built on request, and has been used successfully carrying multiple passengers on the Yukon River. Reports are, "It's a blast!"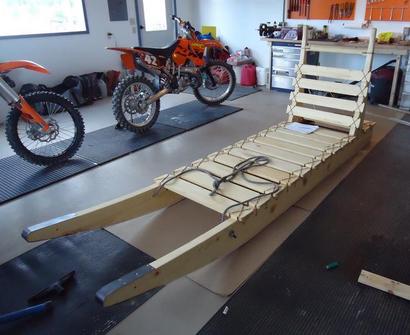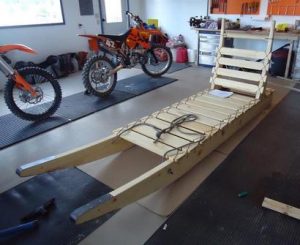 Deposit
A minimum deposit of $1000 is required to secure a sled order, with the balance due before shipping. Gattsled accepts cash, cheques, wire transfers, and E transfers. We are not set up for credit cards.

Prices are in Canadian dollars, sales inside Canada subject to 5% GST.

Sleds, parts and accessories destined for export to the United States or overseas are not subject to 5% GST.

Gattsled accepts payment in US dollars at current exchange rate plus 2% which our bank charges for conversion.
Delivery Time
Each sled is custom built, there are no new Gattsleds in stock. Sleds are ready for delivery typically within 4 days to 8 weeks of ordering depending on existing orders and material inventory. Call for details on current timelines.
Shipping
Shipping is the responsibility of the purchaser, but we are familiar with some of the best ways to ship your sled and we do what we can at our end to help make sure that your sled gets to you as safely, quickly and economically as possible.

Within Canada: Throughout Canada, as far east as Montreal, we reccommend shipping by Greyhound Bus. Greyhound normally takes 3 to 8 days for delivery within Canada.  They are reliable and inexpensive.

To USA: We can ship via Greyhound to the US border if you are able to pick your sled up in a Canadian border town. For shipments beyond the border, Manitoulin Transport can arrange shipping from Whitehorse. Sleds going to Alaska are by personal arrangement with Hans as no shipping company goes from the Yukon to Alaska. Contact us for details.

Europe, Scandinavia or beyond: Gattsled has some information on shipping to other parts of the world. Prices vary according to destination. Contact us for details.
CONTACT US
Feel free to contact us if you have any questions:

gattsled@hotmail.com
(867) 668-2703
9 am to 9 pm Pacific Time Zone (Yukon, BC, California)

Magic Trails Dog Sledding Tours
Gentian LN BOX 11016
Whitehorse, YT Y1A 6L6
Yukon Canada